Designer Patio Enclosure at Prices You Can Afford in Melbourne
Australia is a country that loves the outdoors. This love of outdoors extends to our homes with a patio – a place we love to spend our time in. However, the extremes of weather in a city like Melbourne can limit the use of the patio. A patio enclosure in Melbourne is an excellent way to use your patio all year round. A patio enclosure is like an additional room in your house. You can use it as a library, outdoor dining area, or family recreation room. A glass patio enclosure saves your family from the onslaught of weather and keeps away the prying eyes. Here are some of the benefits of making a patio enclosure: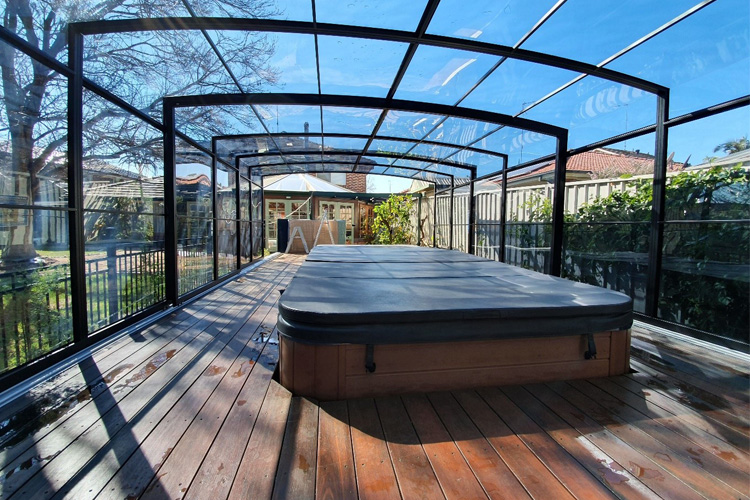 Additional room
Benefit of outdoors
Warm in winter
Protection from UV rays
All-weather use
Fly and insect protection
Privacy & security
Custom Designed Alfresco Enclosure with Glass across Melbourne
An alfresco enclosure is the extension of your house with all the benefits associated with the outdoor. It is like opening your home and adding an extra room. They are designed in such a way that you can use them throughout the year. As lighting is also added to an enclosed alfresco with glass, you can use it during the night as well. It is also popular for use as an outdoor kitchen, and you can use it for family barbeque and get-together as well. Relaxing with your friends with beer while watching rugby or cricket is another popular way people use their alfresco glass enclosures. The immense flexibility of an alfresco enclosure means that you can enjoy the fresh outdoor breeze without worrying about privacy, dirt, or insects.
Excelite Pool Enclosure is the market leader in designing and installing all kinds of alfresco enclosures. We are the most sought-after alfresco enclosure specialists in Melbourne, with several years of experience and a highly qualified team of workers. We work with you from the design to the completion stage. Our team of experts listens to your requirement, visits your house, and offers the best alfresco glass enclosure solution tailor-made for your home.
We never impose our ideas but suggest all the available alternatives, so that you can make an informed choice regarding the alfresco glass enclosure at your home. Based on your requirement and the area covered, we offer the most competitive rates that you can find in Melbourne. We only use the best materials that are backed with full manufacturer's warranty, to make visually appealing enclosed alfresco with glass that adds to your comfort and helps you enjoy the benefits of the outdoor without worrying about flies, dirt or fallen leaves.
Here are some benefits of choosing us:
Widest range
Custom solutions
Affordable rates
Easy fitting
Timeline adherence
Transparent billing
No hidden costs
Manufacturer warranty
Call the Enclosure Specialists to Complete Your AreaPatio or Alfresco
Call us on 0451 946 880 to speak to the expert team at Excelite Pool Enclosure for a patio enclosure or alfresco glass enclosure in Melbourne. They will be happy to answer any queries and book an appointment for a home visit for site measurement and front porch enclosure suggestions. You can also get a no-obligation quote based on your patio or alfresco glass enclosure requirement. Trust us to build the best, strongest, long-lasting, and beautiful enclosure at your home in Melbourne.