Wonderful Carport Metal Roofing Panels & Sheets in Melbourne
Carport roofs are a common sight in houses in Melbourne and across various cities in Victoria. An aesthetically designed carport roof adds value to your home and offers various practical uses. The important aspect of choosing a carport metal roofing panel is that it should match the existing style and visual aesthetics of your home. It should look like a natural extension of your house as therein lies its appeal.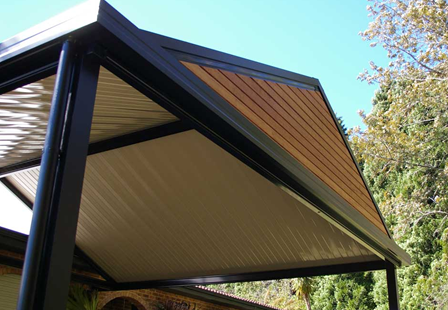 Why Choose Us?
You need an expert designer and contractor to install a carport for your home. A major aspect to consider when you want to build a carport is the home décor. Your carport not only needs to add to the value of your property, but it must also look good and gel seamlessly with your home design. There are several aspects to it – the kind of material, colours, designing skills, customfabrication, and installation. Excelite Pool Enclosure is the supplier and installation contractor for premium carport metal roofing panel solutions in Melbourne. We provide you with:
Expert designers
Widest range
Affordable prices
Excellent workmanship
Timely completion
Transparent billing
Trusted and valued contractors
Experienced & courteous staff
Guaranteed results
Select the Best Carport Roof Style in Melbourne
A carport roof is a valuable addition to your home. It provides an extension of the main house and a secure place to park your cars or to hold barbeque parties with your friends. It is designed to match your existing property and provide a seamless extension of the same. It greatly enhances the value of your home and provides various benefits. These are the various roof styles available in Melbourne. You can choose the best style based on your individual preference and requirement:
Flat Roof Carport: The flat roof carport is popular with both heritage property owners and with homeowners who prefer simple design. A flat roof carport has a simple design and provides the coverage of outdoor space adjacent to the house that can be used either as a car parking space, as a covered shed or for holding barbeque parties.
Gable Roof Carport: One of the most popular carport roof designs; a gable roof carport has two slanting sides that are attached to a gable. It can be used to park cars and for outdoor parties. It appears like a natural extension of the house and is suited for homes with sloping roofs. You can opt for a timber, steel, or aluminium gable roof carport depending on your preference and requirement.
Skillion Roof Carport: The simple and flat design of a skillion roof carport makes it ideal for both large and small homes. It is also a carport of choice for heritage homes. It is structurally sound and lasts several years. It is highly effective during rains as it drains water effectively because of its slope design and the material used in its construction.
Vertical Roof Carport: They are a popular, widely sold and installed carport roof in Melbourne. The reasons for the high demand for vertical roof carport are that they are efficiently designed, fit in with almost every type of home, and are structurally sound. They use vertical panels, ridge caps, and cross braces. It is highly effective in areas that experience extreme weather including heat waves and snowfall.
Reach Out to Us to Buy Quality Carports Roofing Panels in Melbourne
Call us at 0451 946 880 to speak to the expert team at Excelite Pool Enclosure for carport roof panels and sheets. They will be happy to answer any queries and book an appointment for onsite measurements and suggestions. You can also get a no-obligation quote based on your carport roof requirement.